Simone Veil, the French Holocaust survivor and human rights champion, who died last week aged 89, will receive the rare honour of being inducted into the Panthéon, President Emmanuel Macron has announced.
She has become only the fifth woman to be buried in the Paris monument, which houses the remains of great national figures.
Veil will join scientist Marie Curie; two resistance members who were deported to Germany, Geneviève de Gaulle-Anthonioz and Germaine Tillion; and Sophie Berthelot, who was buried alongside her chemist husband, Pierre-Eugène Marcellin Berthelot.
Among the other luminaries buried in the secular mausoleum are writers Voltaire, Victor Hugo and Émile Zola.
Veil was deported to Auschwitz in 1944 when she was a teenager. She survived the concentration camps that claimed the lives of her mother, father and brother, and went on to become a crusader for women's rights and European reconciliation.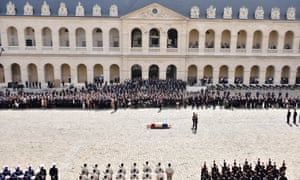 Her biggest political achievement was pushing through a law to legalise abortion in France in 1974 despite fierce opposition.
Macron told the mourners he would bestow the Panthéon honour on Veil and her husband Antoine, who died in 2013, to show "the immense gratitude of the French people to one of its most loved children".
He added: "You brought into our lives that light that burned within you and which nobody could ever take away."
Born Simone Jacob in Nice on 13 July 1927, Veil was arrested by the Gestapo in March 1944 and deported to Auschwitz with one of her sisters and her mother Yvonne.
The two girls, who were put to work in a concentration camp, survived – as did another sister who was deported for her role in the resistance.
Her mother died of typhoid in Belsen just before the camp was liberated in 1945, and her father and brother were last seen on a Lithuania-bound train carrying deportees.
"Sixty years later, I am still haunted by the images, the odours, the cries, the humiliation, the blows and the sky filled with the smoke of the crematoriums," she said in a TV interview broadcast in 2005.
Reflecting on her famously resolute character in a eulogy, her son Jean Veil said: "That determination was the backbone; the armour that helped you survive hell."
A member of the centre-right Union for French Democracy, she became health minister in 1974 and led a battle that marked her generation: the legalisation of abortion.
Veil led the charge in the national assembly, where she faced a volley of insults, some of them likening pregnancy terminations to the Nazis' treatment of Jews.
The legislation, the Loi Veil (Veil Law), is considered a cornerstone of women's rights and secularism in France.
In 1979, she become the first elected president of the European parliament.
In later life, Veil, who was repeatedly voted one of France's most trusted public figures, led the national foundation for preserving the memory of the Shoah, or Holocaust.