Independent centrist Macron has defeated Marine Le Pen by 65.1% to 34.9% according to French state television estimates, as counting continues
Macron's choice of Beethoven's Ode to Joy as the background music to his march to the stage was surely significant.
It has been used before: François Mitterrand, France's Socialist president from 1981 to 1985, chose it for his first victory celebration.
But the Ode to Joy, a musical setting of Schiller's lyrical verse of the same name, is also the anthem of the European Union – an expression, the EU says, of Schiller's vision of "the human race becoming brothers".
EU leaders adopted it as the bloc's anthem in 1985 and it is played at official ceremonies involving the EU "to celebrate the values member states share" rather than to replace their own national anthems.
Macron campaigned on a strong pro-European platform and explicitly said in his victory speech that "strengthening the European Union" was one of his goals as president. The first foreign leader to speak to him was Angela Merkel.
The president elect has often said his first priority in Brexit talks would be to "defend the integrity" of the EU. In his election manifesto he described Brexit as a "crime" that will leave the UK facing "servitude".
His choice of music tonight would seem to send a particularly strong message to Theresa May.
Macron says the task facing us is immense, and will start tomorrow. It involves reinforcing France's economy, building new defences, ensuring the safety of all French citizens. It is a huge job and it will require more of the same audacity that has brought us this far.

This task will require the involvement and commitment of everyone, he says. It will require the courage of truth. It will require the building of a real and strong majority, a majority for change that the country needs and deserves.

We have the strength and the energy. We will not give in to fear, to division, to lies, to a love of decline or defeat. I know what I owe you, to my companions, my family, my friends. It will not be easy. The job wil be difficult.

I will tell you the truth but your fervour and your courage will carry me forward. I want the unity of our people and of our country. And finally, I will serve you with humility, with force, and in the name of our motto: Liberty, equality and fraternity.

I will serve you with love, he says. Vive la République, vive la France.
His wife Brigitte joins him on stage, on the verge of tears, with her children and grandchildren.
Macron's victory speech
Emmanuel Macron is about to speak to the cheering crowds in front of the Louvre, to the strains of Beethoven's Ode to Joy, the European anthem.
Thank you my friends, he says. Thank you for being here this evening. Thank you for having fought with such courage for so many months because this evening you have won, France has won.

What has been accomplished has no precedent or equivalent, he says. People said it was impossible. Thank you for the efforts, and the risks some people took. I take full measure of the honour.

He says he is aware he has not been given a blank cheque by those who voted for him simply to keep out the extremist parties. He says he will stand by his engagement to protect France.

He says of those who voted for Le Pen that he understands their fear and their anger and will do all he can to ensure during the next five years that they have no further reason to vote for the extremists.

This evening, he says, it is Europe and the world who are watching us.
Here's Leave.EU's take on the evening's proceedings, offered without comment:

Libération has some fun facts on France's new president, in case you were feeling this this was all getting a bit heavy. They include:
He's the first French president to be called Emmanuel.
His name is only worth nine Scrabble points, the lowest tally of any president of the Fifth Republic and way fewer than Sarkozy (34).
He is 1.73 metres tall, six centimetres less than the French average and one centimetre less than Marine Le Pen.
He likes Johnny and Halliday and Charles Aznavour, and once said wine was "the soul of France".
His dog, an Dogo Argentino, is called Figaro.
In Nevers, Oscar Lopez has found a mixture of relief and disappointment at the result.
"It's so great," said Catherine Fleurier, 53, a social assistant on the city council, and, like Macron, was elected without party affiliation. "Otherwise we would've had to become exiles from our own country. The revolution would start tomorrow."
Others were less enthusiastic. "I wasn't even going to vote today," said Bourak Patrouche, 66, a local bartender. "But I had to. Just to avoid the political catastrophe that would have been the Front National."

An Algerian immigrant who came to France in the 60s, Patrouche was incensed by Marine Le Pen's anti-immigrant discourse. "France is a land of welcome," he said. "Her project was just based on fear and racism – it was completely unrealisable."

Still, Patrouche, who had voted for the hard left Jean-Luc Mélenchon in the first round, wasn't particularly enthused by Macron. "When you come from the world of work, you can't accept a man like that," he said. "Mélenchon wanted to fight the bourgeoisie – Macron is the bourgeoisie."

Joffrey Drapeau, 27, had also voted Mélenchon in the first round. "I'm very worried for the future," he said. "I don't think this is a victory for Macron: 35%, that's a big score for Marine Le Pen. That's a victory for fear."

Though he'd voted for Macron himself, he was very disappointed with the campaign: "There was no candidate who was truly presidential," he said. "France's political system is far from its people: That's why so many people vote for the FN."

For Leila Sabri, 49, her vote for Macron had been an act of resistance. "I wanted to show Marine Le Pen that I can be Muslim and French at the same time," she said. "My religion is a part of me. But France is my country."

Still, Sabri was so anxious about the result, she hadn't slept the night before, and the results hadn't eased her worries completely. "Five years goes quickly," she said. "If this doesn't work out, we'll have Marine as president, that's for sure."
The Guardian has a live results tracker running that shows the count by department and the percentage change between the first and second rounds, as well as the abstention figure. You can have a look at it here.
Marion Maréchal Le Pen, Marine's niece and one of the Front National's only two MPs, acknowledged "some disappointment" after Macron's victory and called for a period of "reflection" on the party's campaign strategy.
The FN's fight must be aimed at ensuring Macron does not have his hands completely free to run the country. There needs to be as many as possible of us in the national assembly.
Some interesting numbers from Mathieu Gallard of pollsters Ipsos:
About 43% of Macron's voters cast their ballot for him to keep out Le Pen; only 39% of voters would like the new president to have an absolute majority in the new parliament after legislative elections next month; taking into account abstentions and spoiled ballots, roughly 44% of people on the electoral roll voted for Macron – similar to De Gaulle in 1965 (45%), Mitterrand in 1981 (43%) and 1988 (44%) and Sarkozy in 2007 (43%).
The parliamentary majority figure shows how hard the new president is going to have to work to get his programme implemented.

Graeme Wearden
The euro has hit a six-month high against the US dollar as financial traders react to the French election results.

The single currency rose to $1.102 in early trading, its strongest position since the US elections last November.
Investors are relieved that Emmanuel Macron's victory removes question marks over France's membership of the EU, and the single currency. But it's a fairly modest rise, as Macron's victory was largely 'priced-in'.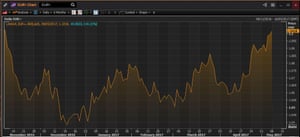 The euro has also hit a one-year high against the yen – a sign of relief that Macron secured such a big win over Marine Le Pen. It's up 0.3% against the pound too, to 84.9p.
Michiel de Bruin, head of global rates and money markets at BMO Global Asset Management, comments:
"This win sends a clear signal that anti-EU populist parties are unable to secure a power base across the political landscape in continental Europe. This started with the presidential elections in Austria in December 2016, with a win by the Pro-European Alexander Van der Bellen, followed by the Dutch elections last March where centrist pro-European parties won the elections.

Now this trend has been echoed in France with a win by Emmanuel Macron, who has been campaigning on a pro-European agenda."
Timothy Graf, head of macro strategy at State Street Global Markets, predicts that markets can now relax about European politics. But possibly not for long.
Graf says:
We expect the focus to now shift to how successful Macron's political movement, and new party, En Marche!, will poll ahead of June's parliamentary elections, and how strong a coalition of support he can expect as the leader of what is likely to be a minority party."
Updated
US president Donald Trump, who before the first round vote last month had said that Marine Le Pen was "the strongest" candidate, has tweeted his congratulations to Macron:
Macron delivers solemn victory speech
Emmanuel Macron has given his victory speech. It was sober, calm and short.
He spoke of a "big honour, and an immense responsibility". He said he was speaking to all of France's citizens, not just those who voted for him. He sent "republican greetings" to Marine Le Pen.
He said he was aware of the "anger, anxiety and doubt" that many French citizens feel and had expressed in their vote. He said he would be "implacable and entirely resolved" in defending their security.
I will defend France, its vital interests, its image.
His primary task over the coming five years, he said, was to "calm people's fears, restore France's confidence, and gather all its people together to face the immense challenges that face us in the future".
The abstention rate, an estimated 25.3%, was the highest in a French presidential election since 1969, and the number of voters who cast a blank or spoiled ballot is expected to reach an absolute record of about 12%.
The figures reflect the relatively large number of French people in this election who felt unable to vote for either candidate so either did not do so, or did but registered their disapproval of the choice they were being offered.
Commentators have said this is largely a consequence of the fact that neither candidate represented an established mainstream party, and that for some voters, particularly on the left, the alternative to the far right was seen as significantly more right than left.